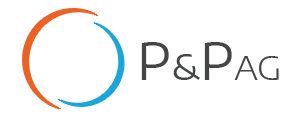 More than 25 years specific experience in multiphase (mainly solid/liquid) reaction and separation business, with deep knowledge of applications, key players and their positioning, market configuration and size, process innovation, scale up of industrial process equipments, process optimization.
P&P AG avails of a strong external consultancy network with deep knowledge of process industry systems market, decision criteria, as well as decision makers.
P&P AG has the capability to follow new application of multiphase process equipment, starting from the very early phases (i.e. proof of principle tests), till the delivery of the industrial scale system and the post-project follow-up.
The relationship with customer portfolio is such that P&P AG has easy access to performance data collection and gathering from existing operations at customer's sites.
P&P AG
Via Ai Ronch 2 CH - 6556 Leggia – GR - Switzerland - Phone +41919600926 - Fax +41919602197 - info@pepag.eu
CHE-100.951.806 IVA
WE'RE CURRENTLY WORKING ON OUR NEW WEB SITE. STAY TUNED!